SINGLE PARENT FAMILIES HAVE INCREASED
Throughout most of West em history, children remained in the custody of the father in those few families broken by separation rather than by death. Within the past century the idea that children of separated parents "belonged" with the mother gained an acceptance that was seldom questioned. Today this assumption is questioned by no fewer than 650,000 fathers who care for their children themselves (but still only 12 out of each 1,000 households) Several studies seem to show that fathers can successfully raise children by themselves, even though it presents some special problems [Orthner et al., 1976; Dresden, 1976; G. Collins, 1979). While the proportion of all households composed of a married couple with children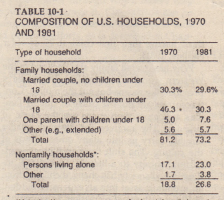 present fell by one-fourth between 1970 and 1981 (from 40.3 to 30.3 percent; see Table 10- 1), those headed by. females  ncreased 65 percent, to one in nine families. Those families headed by a never-married female increased 356 percent between 1970 and 1981, to a total of over 1 million, Of all families with children, one,-parent families increased from 11 percent in 1971 to 21 percent in 1981. At a given . moment, 20 percent of today's children are living in a single-parent household, while today's child has a 50:50 chance of living in a single-parent household at sometime before the age of 18 [above figures from U.S. Bureau of the Census, 1982n].
It is also. dear that a single-parent family can be a healthy environment for children. A support network of helpful relatives or friends can make a great difference [Mclanahan et al., 1981]. The character of the parent is dearly more important than the form of the family [Marotz-Baden et aJ., 1979]. One responsible, loving parent may be better for children than two. quarrelsome, abusive parents locked in endless conflict. But it is difficult to argue that two. responsible, loving parents are not better than one.